ANTON SMIT:
The Life and Times of a South African Sculptor
Widely revered for his overwhelming heads and monumental african sculptures, evoking themes of suffering, reconciliation, glory and sublimation, his works grace public and private collections countrywide and internationally.
"Spoken verse, the echoes of emotive lyrics and the rasping of sculptures in progress are customary sounds emitted from his studio. Larger than life, Anton Smit is the embodiment of poetry, an apt term for this sculptor, derived from the term "making".
"Anton forms his own language through sculpture, the manifestation of his passion for expression and his profound faith." – Kathleen Thomas, Art Curator
"What distinguishes the creative person is his persistence and determination to excel." – Rhoma Ochse
Anton collects sayings about the relationship between art and the individual artist's experience of reality. " Art is not to render the visible but to render visible," he asserts, and his art achieves this in many ways.
An inspiring raconteur, Anton enjoys relating tales of his struggles as a young sculpture artist. The secret to his success could be attributed to his courage and determination to forge ahead in the face of great difficulty. "Take big risks. Don't fret about what others think. Do the most difficult thing on earth for you – do it for yourself." – this approach paid off in spades.
" A human being consists of the choices he makes."
– Anton Smit
" You must care about a world you can't see."
– Bertrand Russel
"Creation continues incessantly through the medium of man," Anton believes.
"Man himself then is mouthpiece, medium and meaning all in one, and his challenge as an artist is to create himself over and over again, finding new connotations and new concepts in given shapes, figures and faces.
Man emulates and assimilates nature, producing poetry in word and form."
Some observers have noted that this is why so many of his pieces, even the most abstract ones, manage to communicate powerfully and emotionally and why his work is possessed of a raw, earthy power that feels innately African. His body of work comprises towering human figures, nudes, impressive heads, masks, hands, angels, floating and stretching figures, warriors as well as abstract works, using mostly steel, metal, fiberglass and bronze.
Anton likes to imbue his work with an illusion of movement or gesture, bodies curling up or limbs reaching out to the onlooker, inspirational "action figures" projecting tremendous emotion, a call to movement. He works with metals and stones, also creating a unique iron and polymer cast mixture,which combines metal with several other mediums.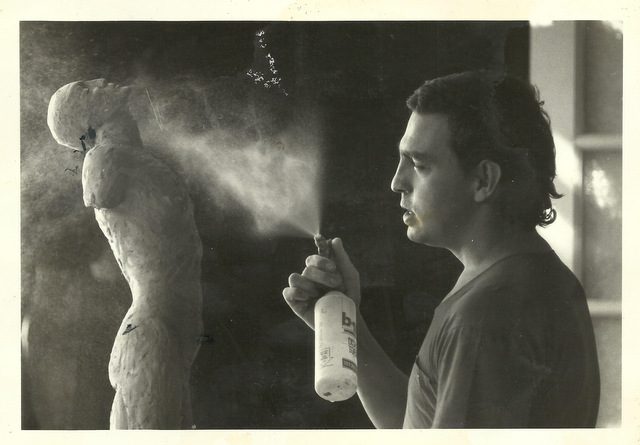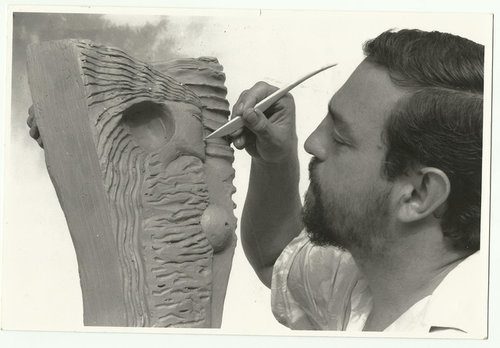 Anton spends and works the first three months of the year in his Cape studios in Strand and for the rest of the year in his studios at Bronkhorstspruit Dam, where he oversees a dedicated work force of 16 people. " We are like family."
Anton Smit in his creative prime is a force to be reckoned with.
"I have known Anton for many years,
and for me his work perfectly epitomises
South Africa's diverse heritage. Anton's
striking sandstone work 'Passover' is
one of only a small number of pieces I
commissioned specifically for
Delaire Graff Estate.
Initially Anton worked on the sculpture in
situ at the quarry, crafting it from a solid
piece of sandstone weighing over five tons.
Without question, this demonstrates
his ingenuity, dedication and passion;
qualities reflected throughout every piece
he creates. 'Passover' is now positioned alongside
the driveway which leads to the Estate,
set against the dramatic backdrop of the
Simonsberg Mountain range. I believe
that collecting art is a true passion, and
this is one piece I truly love."   
–  Laurence Graff OBE, Chairman of Graff Diamonds – Delaire Graff Estate, Stellenbosch
"His works, often monumental in size, but never without grace and harmony, reveal a complete mastery of his media and materials, whether it be in stone, bronze, cement or metal, they reflect subtle nuances of colour and shades. His graceful forms, especially the stylish human faces and figures give the impression of lightness and flight. The forces of his imagination are almost tangible and pervade the spaces surrounding his sculptures. Inspiration and dedication vibrate from all his work"   –   Pieter W. Van Heerden, Director of the Association of Arts – Pretoria
"A reputation cast in stone – Wandering through the maze of sculptures in his astonishing Sculpture Park, from way back to today, it is amazing to review his road to success. The scope of his work is mind-boggling and it is exciting to witness that he finally found his Camelot. With the horizon stretching as far as the eye can see and beyond, it is the perfect backdrop for his sometimes marvelously extravagant, often exuberant sculptures."   – Diane de Beer,  Journalist – The Pretoria News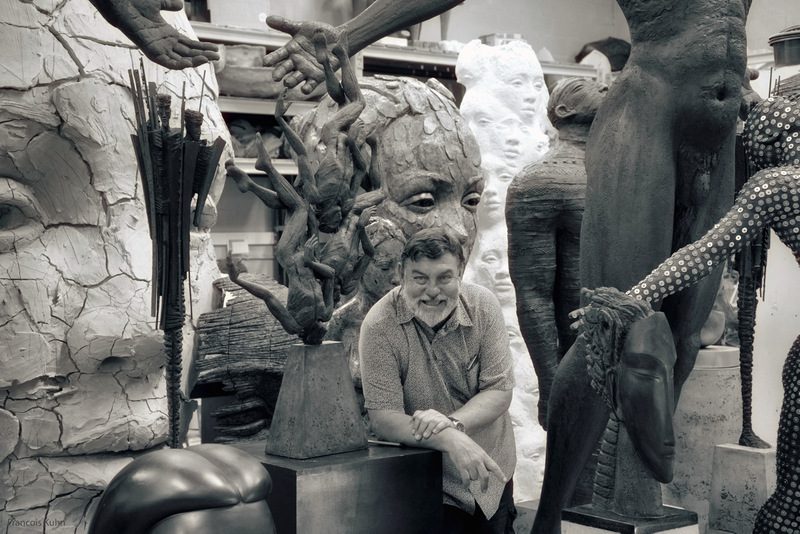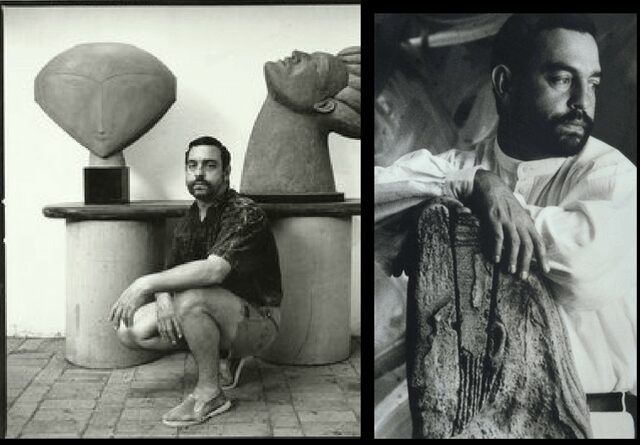 History | Exhibitions
Anton achieved his first artistic breakthroughs in 1977, he received special mention in the South African Art Association's New Signatures competition in Pretoria. Two years later he had a great boost when he won first prize in the New Signatures competition.
He was the "Artist of the month" in 1982 at the Pretoria Art Museum this was followed in 1987 with his first one man exhibition in the Beuster Skolimowski Gallery in Pretoria and in 1989 another one man exhibition at the SAAA. Since then he has held numerous exhibitions of his sculptures throughout South Africa, in Witrivier, Nelspruit, Pietersburg, Johannesburg, Potchefstroom, Durban, Cape Town, in leading galleries such as the Crake, Kraft, Olivetti, Michaelatos, Beuster Skolimowski, Everard Read and many others. His work has been exhibited in Rome and Milan, Italy. The M-Net Head Office bought large bronze sculptures, and he completed commissioned works for BMW's head office in Midrand
In 1994 he put 35 sculptures on exhibition in New York at the Grand Central Station as part of the Strengthening the Link initiative to boost trade between South Africa and The United States, organized by SATOUR in conjunction with the Department of Trade and Industry, represented by former president Nelson Mandela. He considers one of the highlights of his career: The Age of Grace, an eight foot high bronze sculpture at the Grand Central Station, which celebrated South African Heritage and was displayed on the front page of The New York Times.
Anton Rupert bought one of Smit's works for the Rembrandt Foundation. A collection of his work was exhibited during the inauguration of President Nelson Mandela at the Union Buildings in Pretoria in 1994. Nobel laureate Desmond Tutu and ex minister Pik Botha bought some of his sculptures. Anton Smit's work has been shown and lauded internationally in places as diverse as Rome and Milan, Italy (1991), the Sweeguan Art Gallery in Singapore (1993), Bonn and Wolfsburg in Germany (1994), the SA Embassy in Bonn (1998), Amsterdam (2004) and Cologne (2014).
In 2000 work was commissioned by The University of Pretoria. In 2001 his works were purchased by the Rembrandt Foundation in Stellenbosch and a large work was commissioned by MNT Developers for the Boardwalk Meander.
In 2003 Smit opened his own sculpture garden, at the spectacular Anton Smit Sculpture Park in Aqua Vista, with a breathtaking view of Bronkhorstspruit Dam. In the same year he created the enormous Sandstone Head (2 X 3 meter) for a European art collector.
Other landmark exhibitions and art commissions he completed include the Public Commission National library of Tshwane in Pretoria (2007);
No Second Death exhibition in Franchhoek at the Grande Provance Wine Estate and Gallery (2009); a large sandstone head and other art commissioned by Graff-Delaire Wine Estate (2009);
Facets exhibition and Angels exhibition at the Anton Smit Gallery (2010); Transitions at Anton Smit Gallery and Faith at the Grand Hyatt Regency Hotel and Golf Estate Oubaai (2011); Transcendental Head/Kungwini public sculpture on the R25, a symbol of the new SA (2012); Metal work exhibition in Stellenbosch and The Continuous Redemption of Man at the Gallery on Leviseur, Bloemfontein, Innibos festival in Nelspruit (2013); Art Affair at the Saxon Hotel in Johannesburg (2014),
Transections in the Young Blood gallery in Cape Town and a monumental commission for Menlyn Maine (2014). Anton Smit's much-anticipated solo sculpture exhibition Reverberating Time was shown at the Youngblood Gallery in Cape Town in March 2014. Half of the pieces in this solo exhibition were displayed for three days, then sent to Germany, where Youngblood Europe was presenting them as part of the world-renowned contemporary art fair, Art Cologne.
RETROSPECTIVE
This video is dedicated to Anton Smit in celebration of his life – a journey over his works from 40 years. Sharing his talent, his relentless contribution towards art in South Africa, his generous personality and his unquenchable spirit.
Career Highlights:
1971: First prize, National Bible Year Competition
1975: Published in the international magazine "Schaufenster
1976: Exhibition, Etno-Africa Gallery, Pretoria
1977: Highly acclaimed at New Signatures
1979: Exhibitions in Witrivier, Nelspruit and Cape Town
1979: First prize, New Signatures Competition, SAAA
1980: Beuster-Skolimowski Gallery, Pretoria
1980: A.P.S.A National Exhibition, Olivetti Gallery
1981: SAAA, Crake Gallery, Pretoria
1982: Artist of the month, Pretoria Art Museum
1986: Everard Read Gallery, Johannesburg
1987: Beuster-Skolimowski Gallery, Pretoria
1988: Pretoria and Pietersburg Art Museums
1989: One-man Exhibition, South African Association of Arts (SAAA)
1991: Exhibitions in Rome and Milan,
1991: International Exhibition of Two Worlds in Spoletto, Italy
1992: Large sculptures commissioned by BMW Head Office, Johannesburg
– Monument for the Common People
– Large Reclining Figure
– Passover
1993: One-man Exhibition, Sweeguan Art Gallery, Singapore
1994: One-man Exhibition, Omni Gallery, New York
1994: 35 Sculptures on exhibition in New York at the Jacob Jawitz Exhibition Centre as well as Grand Central Station, New York
1994: Exhibition at the inauguration of President Nelson Mandela at the Presidency
1994: Exhibition, Germany, Bonn, Wolfsburg
1995: Exhibition, Vincent Art Gallery, East London
1997: Designed Millennium Art Gallery, Pretoria
1998: Exhibition, South African Embassy, Bonn, Germany
1998: One-man Exhibition, Artfolio Gallery, Singapore
1999: Exhibition, Inter Art Galerie Reich, Köln
2000: Laguna Beach, California; Potchefstroom Museum, Aardklop Festival; University of Pretoria
2001: Exhibition, Hamburg, Germany
2001: University of Pretoria
2002: Work personally purchased by philanthropist, Anton Rupert for the Rembrandt Foundation – Stellenbosch
2003: Established the Anton Smit Sculpture Park – Bronkhorstspruit dam
2003:  " Age of Grace " – erected at the University of Pretoria Museums – Hatfield Campus
2003: " Shielded Man" – established at the University of Pretoria Museums – Hatfield Campus
2004: Delaire Graff Estate, Stellenbosch – Collection purchased by Laurence Graff
2005: "Identity of South Africa" Exhibition, Amsterdam
2007: Public Commission: National Library of Tshwane/Pretoria
2007: Aardklop Festival, Potchefstroom
2007: Ebotse Golf Estate, Benoni
2008: "Revelations Wall" Anton Smit Sculpture Park
2008: Exhibition, Platform on 18th, Pretoria
2009: "No second death" Exhibition, Grande Provence, Franschhoek
2009: Delaire Graff Estate, Stellenbosch
– Passover
– Faith
– Monument for the Common People
– Colossal Youth
– Batsheba
2009: Additional Bronze commissions for Delaire Graff Estate
2010: "Facets" Exhibition, Anton Smit Sculpture Park & Gallery
– " Facets of Personality"
2010: "Angels" Exhibition, Grande Provence, Franschhoek
2010: Private Commission, Mauritius
2010: Public Art Project, Centurion/Pretoria
2010: Private Commission, Mykonos, Greece
2010: Charity Exhibition, St. Lorient
2010: Main Sculpture for Potchefstroom's Sports Village, commissioned by North West University for the opening of the Soccer World Cup
2011: "Transitions" Exhibition, Anton Smit Sculpture Park & Gallery
2011: "Burning Man', commissioned by University of PTA Museums
2011: Faith at the Grand Hyatt Regency Hotel and Golf Estate – Oubaai
2012: "Transcendental Head "– public sculpture on the R25 – Symbol of the New South Africa
2013:"Metal Work", Public Art in Stellenbosch II
2013: Innibos Kunstefees – Arts Festival – Nelspruit
2013: The Continuous Redemption of Man – the Gallery on Leviseur, Bloemfontein
2014: "Art Affair", Saxon Hotel, Johannesburg
2014: "Transections" Exhibition, Young Blood Gallery, Cape Town
2014: Commission of a Monumental Sculpture, Menlyn Maine, Pretoria
2014: "In Retrospect" – Stephan Weltz, Cape Town
2015: "Smit & Smit" – Imibala Gallery
2015: "Cross section exhibition" – Jan Royce Gallery, Cape Town
2015: "In Retrospect" – Menlyn Boutique Hotel, Pretoria
2016: "Colossal" – 40 piece exhibition – Australian Bronze – Australia
2016: Public Sculpture Exhibition – Menlyn Maine – Pretoria Exhibition
2016: Puerto-Rico Exhibition – Miami
2016: "Charity Auction" MAD Foundation – Sculpture (Spiritus Mundi) sold for R120 000 – Pendoring Awards
2017: "7m Faith" Stream Conference – Spier Wine Farm
2017: Stellenbosch Public Sculpture Exhibition
2017: the Capital Hotel – Menlyn Maine – Pretoria
2017: "Between the shadow and the soul" – Exhibition – Imibala – Somerset-West
2017: "Brick Face" – Imibala Charity – Community Upliftment Project
2017: "Charity Auction" MAD Foundation (Head of a Young Boy & Head of a Young Girl)
2017: Cape Wine Auction for charity
2017: "Rite of Passage" Exhibition – Jan Royce – Cape Town
2017: Public Sculpture Exhibition – Melrose Arch – Johannesburg
2017: Durban "Essence" Expo Exhibition – Durban – South Africa
2017: Grande Provence Exhibition – Walking Man – Franschhoek
2018: "Submerge" Exhibition – Imibala Gallery – Somerset West, Cape Town
2019: Ferrari Fine Arts Exhibition – Scuderia – Bryanston, Jhb
2019: Colossal Exhibition – Genk – Belgium
2019: 7 meters "Faith" public statue inaugurated – Thor Park – Genk – Belgium
2019: The Ivy Hotel Villa & Spa – Exclusive Public Exhibition – Sandton – Johannesburg
2019: Benguela Cove – Exclusive Public Exhibition – Hermanus – Cape Town
2020: Erinvale Country Estate – Somerset West
2020: RESTORE Campaign – Anton Smit Art Investment Initiative to aid those in-need effected by the national lockdown
2020: New Futurism Exhibition – Uitstalling Art Gallery – Belgium
2020: RAPTURE – Exhibition – Grande Provence Heritage Wine Estate  – Franschhoek, Western Cape
2021:  Launched Century City Open Air Exhibition  a 30-piece collection of Sculptures spread out in public spaces around the Century City precinct – Western Cape
2021:  Front Cover feature – Art Times Magazine, April Edition
2021:  Major Exhibition opens in the UK: Leonardslee Lakes & Gardens
2021:  Established Anton Smit Art Route at Lourensford Wine Estate, Somerset West, Cape
2021:  Established "Faith 7 meter" Bronze – Benguela Galleries – Hermanus
2022: Colossal – Solo exhibition – 25 Monumental pieces – Nelson Mandela Square, Sandton, Jhb
2022:  Anton Smit Art Trail – Milhoro Lodge – Rustenburg 
2023: "Landscape of the Soul"  subway Faces 33m wall panel –  Century City
2023:  Rustenburg Marikana Memorial  
2023: Urban Echoes – Exhibition – Collaboration with graffiti artist, Mars –  Nelson Mandela Square