Anton Smit's work has been shown and lauded internationally in places as diverse as Rome and Milan, Italy (1991), the Sweeguan Art Gallery
in Singapore (1993), Bonn and Wolfsburg in Germany (1994), the SA Embassy in Bonn (1998), Amsterdam (2004) and Cologne (2014).
In 2003 Smit opened his own sculpture garden, at the spectacular Anton Smit Sculpture Park in Aqua Vista, with a breathtaking view of
Bronkhorstspruit Dam.
The Anton Smit Sculpture Park, a unique outdoor exhibition which is mere 40 minutes drive from Pretoria and 60 minutes from Johannesburg,
is a destination of creativity attracting tourists and art buyers locally and internationally. The Sculpture Park's three hectare grounds are situated
on the northern side of the Bronkhorstspruit Dam, on a plateau overlooking the water. Amongst the backdrop of natural stone formations,
manicured lawns and succulent gardens, the garden provides a lovely environment to view the expansive collection of monumental
sculptures and exhibitions, it includes Art Café, a coffee shop.
The Park expands the traditional concept of an art venue, ensuring a truly unique and inspiring experience. The art gallery & art café is only open during office hours, Tuesday – Friday: 9 am – 4 pm, Saturday & Sunday: 9 am – 4 pm. (Mondays: Closed). Public Holidays: Open
WALL OF REVELATIONS
Here he also created a monumental sculpture wall on the theme of Revelations (2008), the last book of the New Testament.
"It doesn't represent the narrative or try to tell the interwoven stories of Revelations or pretend to issue any prophetic warning.
I didn't want to knock together generic or kitsch images like news pictures in Time Magazine. Rather, it deals thematically
with the emotional impact of Revelations on the human race, all the spiritual drama wrought by so much upheaval.
I certainly did not want to be predictable…"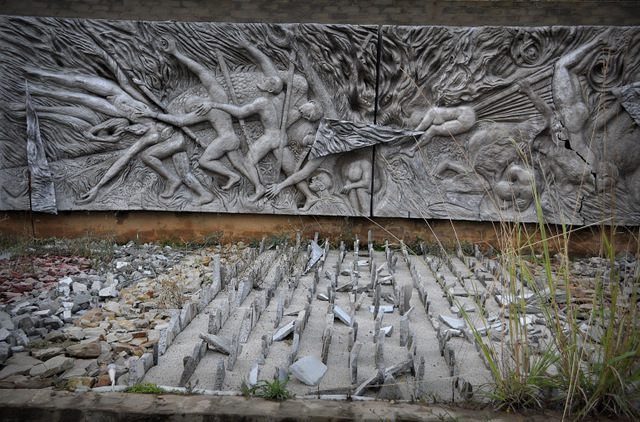 The epic art wall is populated with entwined figures who struggle in the grip of powerful emotions. There are 50 or more
human figures in the wall, but no animals. But there is a central fish. The figures, varying from hand-sized to one and
a half times life sized, seem to twist and turn and writhe in constant motion. "In the perfect logic of our dreams Jonah's whale
is the Leviathan seeking to swallow our future by hiding purpose and direction."
Sculpture Park & Art Gallery – Business Hours:
Mondays: Closed
Tuesdays – Friday : 09h00 – 16h00
Saturdays – Sundays: 09h00 – 16h00
Public Holidays: Open
Entrance: No Entrance Fee | Free of charge